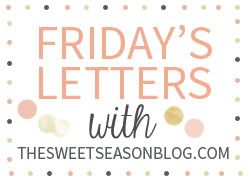 Dear Happy Hour Sushi
,
you are amazing. Especially on a Monday. I appreciate you getting my week off to a stellar start.
Dear Washington,
thank you for two exceptionally sunny spring days this week. The rest of the world may scoff at my appreciation over blue skies in April... but unless you live here, you just couldn't possibly understand.
Dear Scentsy
, thank you for making
a bar
that smells suspiciously like the perfume that you pump through the ventilation system in several of our favorite Las Vegas hotels. I feel like I'm on vacation in my living room -- minus the all you can eat buffets, jingling slot machines, and basically anything else that is awesome.
Dear Weddings with a 3 month old,
just no.
Dear Reese's EASTER Eggs
, please get out of my life.