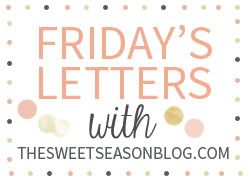 Dear Husband, I am reminded of why I love you every single day. Sometimes, for brand new reasons. Like today... you spent a good hour on an awesome quote for our chalkboard, which you wrote out in better handwriting then most women. Well done. I'm happy to be married to someone so creative.
Dear Record Player, there's nothing better than a rainy morning in the Northwest, a hot salted caramel mocha, and William Fitzsimmons. Thank you for providing a gloriously cozy soundtrack to end the week. It was pretty much the perfect Friday morning.
Dear Pumpkin Spice M&Ms, sadly, you are not delicious. I'm going to pretend I never tried you, and just enjoy the magic of holiday candy anyway.
Dear Scentsy, I just ordered the LIFE out of you. Christmas Cottage, Pumpkin Roll, Honey Pear Cider... get in my warmer.
Dear Nordstrom Rack, I love you and my new Steve Madden wallet. I can manage $25 and multiple pockets/zippers. Oh, and the deep purple that you are is quite nice, too.
Dear Candy Crush Level 147, HAHAHAHAHAHA TOTALLY BEAT YOU. GET OUT OF MY SIGHT.
And, related, Dear 3am Teething Feedings, I'm annoyed that - in my zombielike state - I don't hesitate to spend .99 to beat the most ridiculous Candy Crush levels... because I'm partially asleep, and because husband is comatose and can't scold me for doing so. I'm ready for teething to be over. So is my bank account in the wee morning hours.