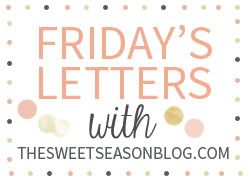 Dear Apple.
I am sending that greeting with a period because it's supposed to sound snarky.
You are the worst and I hate you
. I am
so mad
that my husband got up at 6am and waited in line for 2 hours to be told that "Oh! By the way... we only have the new gray iPhone 5s in stock. Apple delayed the new gold iPhone shipments until October, did you not hear the
midnight announcement
?" You are a big jerk. You totally did it on purpose because you can, and I hate that you have so much power. You can kick rocks.
Dear Husband, thank you for excitedly getting up at 6am to get me the new iPhone even though Apple is the worst and we hate them.
Dear Porter, you're 9 months old today! I can hardly believe you're going to be one year old in 90 days. I can't handle this. Time, you suck just as much as Apple does.
Dear Washington, thank you for remembering who you are. I was afraid that you forgot that you are not supposed to stifling hot after Labor Day. I'm over the muggy, warm weather... and it finally feels like you are, too.